Soracom Air for Cellular
Overview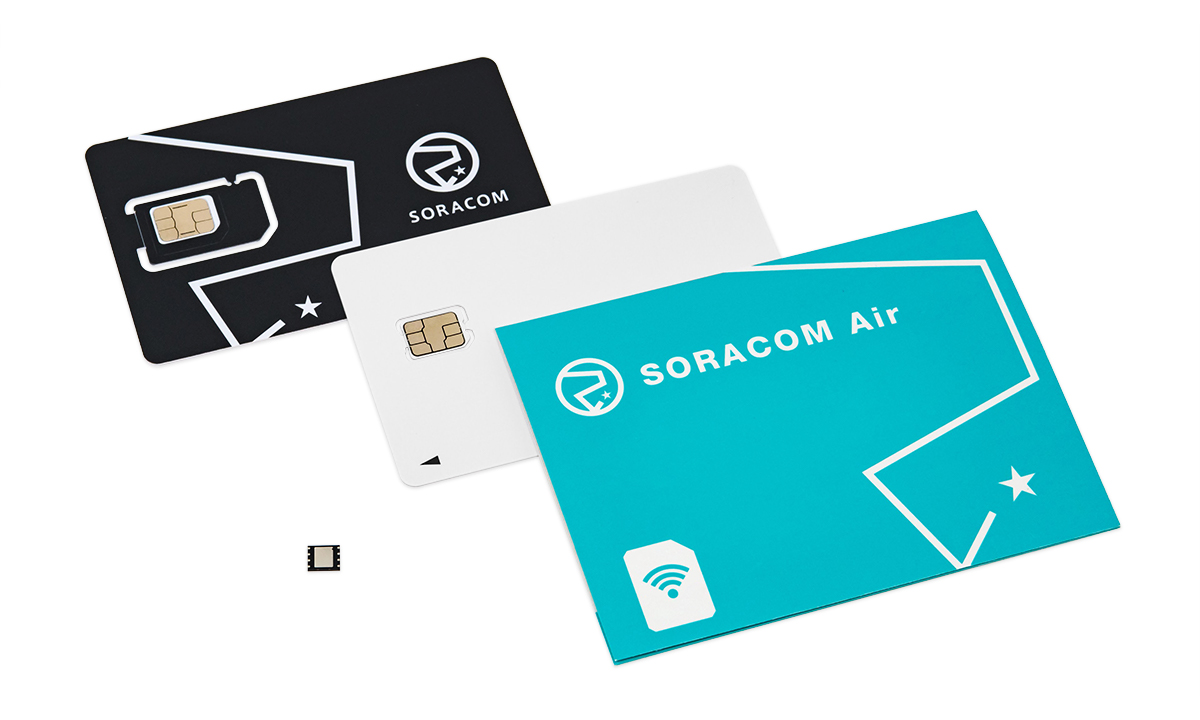 Soracom Air for Cellular is a network connectivity solution that enables device connectivity to public and private network services, as well as cloud services, using ubiquitous 2G, 3G, and 4G/LTE cellular networks.
Air for Cellular allows you to utilize robust cellular networks for IoT applications where signal strength is an important factor, and where traditional wireless communications (such as Wifi or Bluetooth) are insufficient.
Unlike typical 2G, 3G, and 4G/LTE IoT connectivity services, Soracom works with mobile network operators all over the world to provide global coverage, all with a single SIM card or Embedded SIM (eSIM). In addition, the Soracom platform provides tight integration between mobile network operator infrastructure and cloud services, to simplify IoT application development and help overcome common challenges with integration, security, and scale.
---
Features

Integrating Soracom Air for Cellular with your IoT application begins with an Air SIM module (SIM card or Embedded SIM). Much like the SIM cards you receive from mobile network operators, an Air SIM module authorizes a device to connect to cellular networks and establish data connections.
By simply inserting or integrating an Air SIM module into your device, your device automatically gains global cellular data coverage, and is able to start sending and receiving data.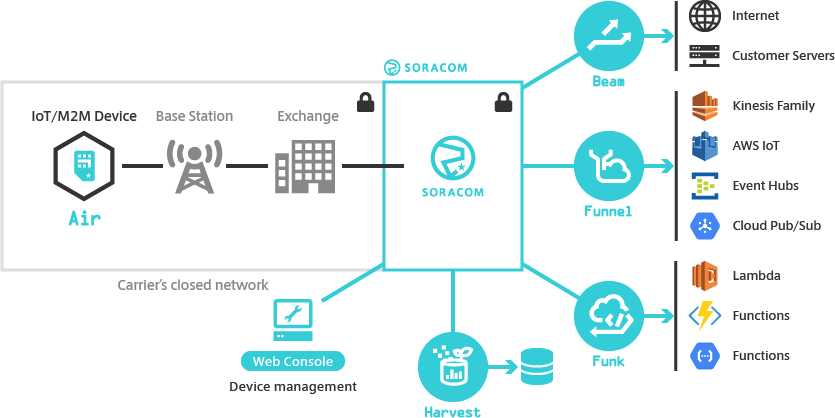 In addition to a basic data connection, the Soracom platform gives you visibility into your Air device's data usage, session status, cell location, and more. Soracom's platform and network services also help simplify the process of collecting, forwarding, or processing data, as well as implementing various security methods according to your IoT application requirements.
Unlike other connectivity solutions, Soracom's platform infrastructure gives you the power to integrate your Air devices directly with private or cloud-based network services, such as AWS and Azure. While a typical cellular device may require exposing a private server to the Internet or configuring firewall exceptions in order for your devices to access the server, Soracom provides multiple network services that connect cellular devices directly to private networks, with transmitted data never traversing the open Internet.
---
Terminology
Each Soracom SIM is composed of several nested components, each of which play a different role when establishing cellular network connectivity. While some terms may be used interchangeably, the component that you interact with may change depending on context, such as using an ICCID number when registering a SIM card, or identifying which device is connected by its IMSI number.
Soracom uses the following standard telecommunications terminology to identify different the various SIM components:
Operator - An individual or organization with administrative control of SIMs and their respective subscriptions. Your Soracom account represents an Operator, and is uniquely identified by your OPID (Operator ID). When a feature applies to an Operator, it means that using or enabling the feature will affect or include all SIMs in your account. When a feature is limited to an Operator, it means that the feature is only available to SIMs in your account.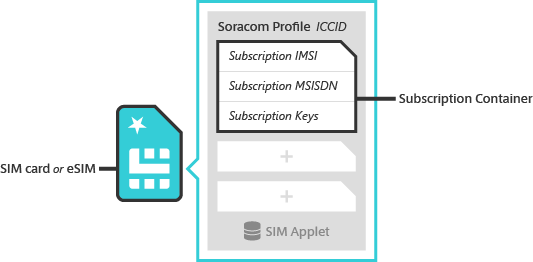 Subscriber Identity Module (SIM) - A general term that typically refers to a physical SIM card or eSIM. In many cases, the term SIM may also include the sub-components within the SIM card or eSIM, such as in "Registering a SIM", which refers to the registration of both the physical SIM as well as the subscription plan associated with it.

In the context of network connectivity, the term subscriber may sometimes be used interchangeably with SIM according to convention, as both terms effectively refer to the same entity from the perspective of the network.

SIM Card or embedded SIM (eSIM) - The physical hardware component of a SIM, either in a card form factor that is user-replaceable, or an embedded form factor that is soldered into a device during manufacturing. On Soracom, this form factor corresponds to the SIM's Module Type, such as 2FF, 3FF, 4FF, and MFF2.

For more information on the physical hardware component, refer to SIM Types.

Subscription - The information needed for a device to connect to a cellular network, including a subscriber identity (IMSI) number and its corresponding authentication keys. The network operator, such as Soracom, maintains a corresponding database of subscriptions in order to determine if a device is allowed to connect, and to apply fees, such as data or SMS charges, based on a service agreement.

For more information on subscriptions, refer to Subscription Containers.

Profile - A collection of one or more subscriptions. The profile is supplied by a network operator, such as Soracom, and is preprogrammed when the SIM is manufacturered. In most cases, a SIM will contain one profile by default, and that profile will contain one subscription by default.

Newer SIMs are able to use multiple subscriptions, either by storing multiple profiles (each with their own subscription), or by adding extra subscriptions to an existing profile. Adding a subscriptions is done through secure Over-The-Air (OTA) updates, which allows new subscription information to be pushed to the SIM remotely.

To avoid ambiguity, Soracom uses the term subscription container to describe a single profile that contains multiple subscriptions, and the behavior of switching subscription containers within the same profile.

Subscriber - The entity or instance of a subscription when it is used by a device to connect to a network. Subscription and subscriber can often be used interchangeably, however in some cases subscription may refer to the agreement, such as in "the cost of the subscription", while subscriber refers to a device that uses the subscription, such as "the subscriber is online".

Integrated Circuit Card Identifier (ICCID) - A globally-unique number that identifies a SIM card. For newer SIMs that support multiple profiles, the ICCID identifies each profile stored within the SIM, rather than the SIM itself.

International Mobile Subscriber Identity (IMSI) - A number that uniquely identifies a device that is connected to a cellular network. The IMSI is used by a device identify itself on a network, and by the network operator to determine if the device is allowed to connect and to apply service charges.
---
Purchasing Air SIMs
Air SIMs can be purchased directly from Soracom via the User Console, or from select Amazon stores.
From Soracom
When purchasing Air SIMs from the Soracom User Console, the SIMs will be pre-registered to your Soracom account. When purchasing a large number of SIMs for your IoT application, we recommend purchasing directly from the User Console, so that each Air SIM does not need to be manually registered to your Soracom account.
All Air SIMs are available on the User Console.
From Amazon
For small IoT applications or when developing proof-of-concepts, purchasing an Air SIM from Amazon may be faster and cheaper. Air SIMs purchased from Amazon stores still require a Soracom account. Additionally, such SIMs must be manually registered to your Soracom account, one at a time.
Certain Air SIMs in SIM card form factor are available from Amazon stores. Embedded SIMs (eSIMs) are not available on Amazon stores.