Soracom Air for Sigfox
Overview
Soracom Air for Sigfox is a LPWA (Low-power, Wide-area) adapter solution that lets you use Sigfox devices directly with the Soracom platform.
Because Soracom connects directly with the Sigfox platform, you can take advantage of Sigfox devices that offer low-cost, low-power, and low-data consumption compared to other IoT hardware solutions, while still enjoying the ease and flexibility of integrating your devices with your private network or cloud services through the Soracom platform.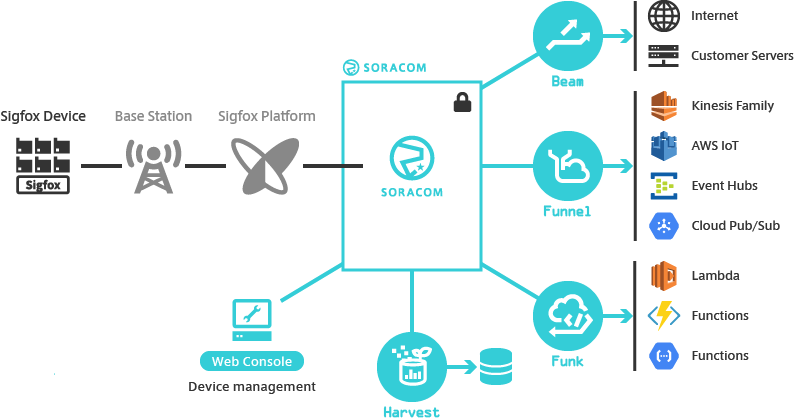 Sigfox devices can be readily deployed in over 50 countries across EMEA, APAC, and the Americas, and managed directly from the Soracom platform together with other device types in your IoT fleet.
---
Features
Normally, implementing Sigfox devices into an IoT application requires licensing additional tools to enable data capture and visualization, or working directly with the Sigfox API to develop a custom integration.
By simply registering your Sigfox devices on Soracom, integration is handled automatically through Soracom Harvest (for capturing and visualizing data), and Soracom Beam or Funnel (for transferring data to your private network or a cloud service). Soracom's pay-as-you-go pricing ensures that you only pay for the integrations relevant to your application.
Moreover, Soracom Beam, Funnel, Funk, and Harvest also work with cellular and LoRaWAN devices, allowing you to set a single configuration, and collect or transfer data for all devices, without having to worry about the differences between each device type.
Since Soracom also provides powerful device management features through its User Console and APIs, you can also integrate management functionality into your application without having to juggle multiple APIs from different solution providers.
---
Limitations
Each Sigfox device is limited to 140 uplink messages per day, with a transmission limit of 12 bytes per message.
Similarly, each device is limited to 4 downlink messages per day, with a transmission limit of 8 bytes per message.