Soracom Lagoon
Overview
Soracom Lagoon is a customizable dashboard service that allows you to build detailed visualizations for your IoT application. Lagoon extends data collected on Soracom Harvest, and lets you easily visualize your application data without setting up any infrastructure.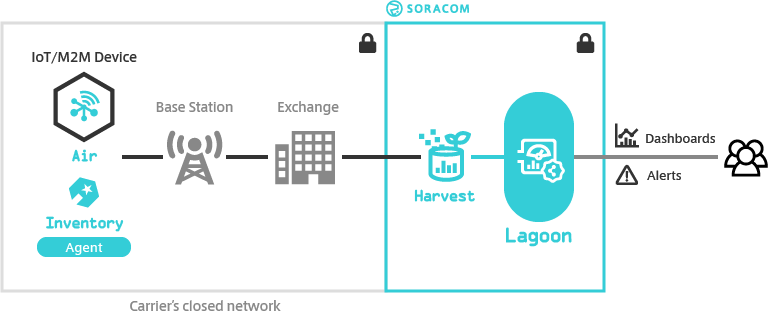 Features
Lagoon is powered by Grafana , which generates interactive graphs, tables, lists, maps, and more, to fit a wide variety of application use cases, all without writing any code or complex SQL queries. While Harvest provides data collection and basic data visualization, Lagoon extends this with the following features:
Dashboards
Dashbaords provide a single-page, at-a-glance view of your application status. Each dashboard is made up of multiple panels, and each panel can be customized to display a graph, table, list, image, heatmap, map, and more. Each panel provides powerful configuration options that let you quickly transform raw data from your devices into visualizations that are easy to understand.
Alerts
Lagoon provides data monitoring and alert functionality for any panel in your dashboard. Simply add an alert rule to a panel, and specify the threshold(s) that should trigger an alert. You can then choose to receive a notification by email or on Slack, or integrate it with another web application by using a webhook.
Collaboration
Lagoon also provides user management functionality, allowing you create users with read/write or read-only permissions to your dashboards, separate from your Soracom account. You can easily share dashboards with team members or customers without having to provide access to your Soracom account.
---
Plans
Lagoon is available in three subscription plans:
| Item | Free Plan | Maker Plan | Pro Plan |
| --- | --- | --- | --- |
| Dashboards | 1 | 3 | 5 |
| Alerts | 1 | 10 | 20 |
| Editors | 1 | 1 | 1 |
| Viewers | — | 2 | 9 |
| Update Rate | 60 sec | 30 sec | 5 sec |
| Dashboard Permissions | — | — | |
| Dashboard Snapshots | — | — | |
| Custom Logo | — | — | |
Lagoon components:
Update Rate - The maximum rate at which data for each dashboard or panel can be refreshed.
Dashboard Permissions - Allow or deny user access to different dashboards.
Dashboard Snapshots - Capture and share a dashboard, which can be accessed using a public link without logging in.
Custom Logo - Ability to customize the logo that appears on each dashboard.
License Packs
The Lagoon Pro Plan can be further extended with optional license packs:
User License Pack - Adds 1 additional editor and 4 additional viewers.
Dashboard License Pack - Adds 1 additional dashboard and 4 additional alerts.
Switching Plans
All Soracom accounts have access to the Lagoon Free Plan at no additional charge. To begin using the Free Plan, simply start a subscription for the Free Plan.
You can upgrade your Lagoon subscription at any time by clicking the Change plan button from the SORACOM Lagoon management page. Plans are region-specific. When upgrading a plan, ensure that you are upgrading your Lagoon plan for the Global or Japan region as needed.
Once you have upgraded to the Pro Plan, you can add License Packs as needed by clicking the Manage License Packs button from the SORACOM Lagoon management page.
In order to downgrade a Lagoon plan, you must delete any additional dashboards, alerts, users, or settings that apply to your current plan type.
If you no longer need the Maker or Pro plans, you can return to the Free plan by first cancelling your Lagoon subscription, and resubscribing to the Free Plan.
---
Users
Lagoon provides two levels of user access to dashboards:
Editors - Users with read-write access to create and modify dashboards and alerts.
Viewers - Users with read-only access to view dashboards.
Each user can access dashboards by logging into Lagoon with their user email address and password.
Permissions
By default, editors and viewers will be able to access all Lagoon dashboards in your account, with their respective read/write and read-only permissions.
The Pro Plan allows you to customize per-user access for each dashboard using Dashboard Permissions. When using Dashboard Permissions, each dashboard can be configured to allow different levels of access for each user:
Users that have a Viewer role can be given No Access or View permissions.
Users that have an Editor role can be given No Access, View, or Edit permissions.
If a dashboard is configured so that all users have No Access, each user will inherit its default role (read/write or read-only) permissions.
---
Limitations
While Soracom Lagoon is built on Grafana, there are additional limitations or restrictions that differ from other Grafana services:
Soracom Lagoon only supports Soracom Harvest data sources.
Data from the Global coverage region and Japan coverage region cannot be combined on the same dashboard.
Exporting panels as images is unsupported.
Attaching images to alerts is unsupported.
The following Grafana features are unsupported:

Users (managed by Lagoon)
Permissions (managed by Lagoon)
Dashboard variables are supported, however they cannot be used in queries
Annotations are supported, however annotations from external sources are unsupported
Organization settings
Plugins
API Keys
---
About Lagoon
The Lagoon map panel uses: