Account Management
Order Management
The Orders screen allows you to purchase devices and SIMs directly from Soracom, and manage your order history.
To open the Orders screen, first click the Menu button, then click Orders.
https://console.soracom.io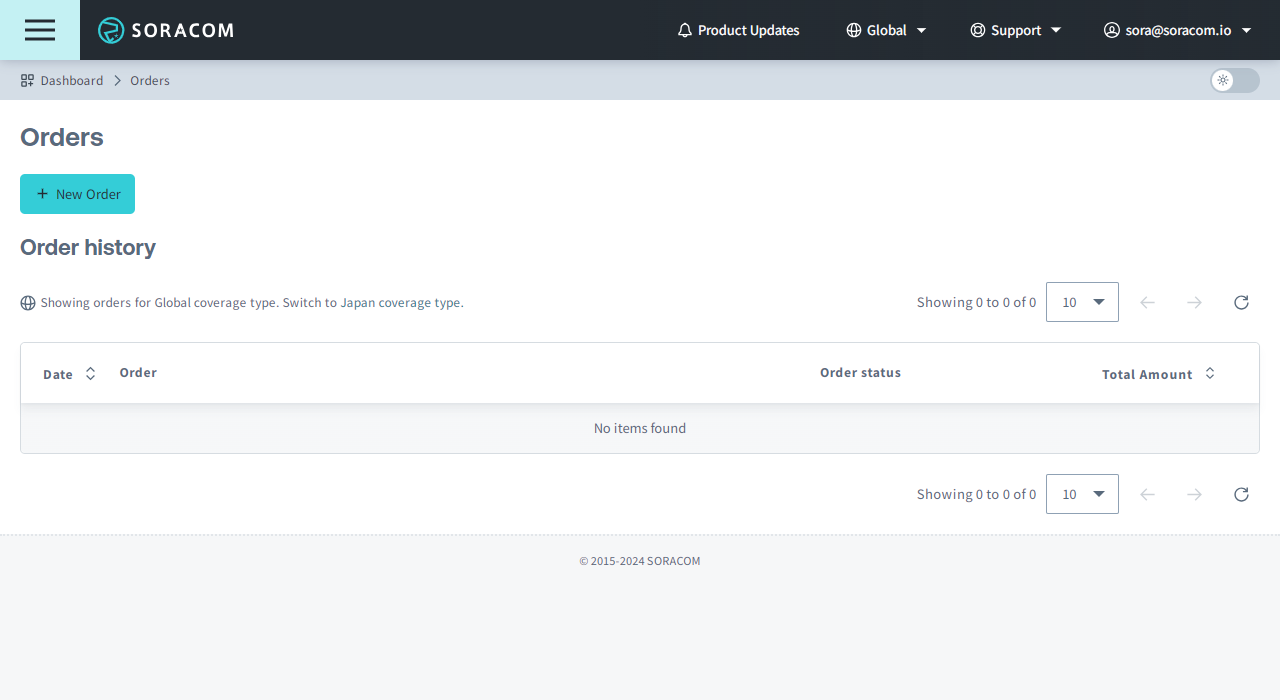 From here, you can view all orders associated with your account.
---
Placing a New Order
To place a new order, click the New Order button.

From the order dialog, select the quantities for the products you would like to order.

Some products may not be available in your region. If an item you are trying to order is not shown, please contact us to inquire about availability.

When purchasing from the User Console, there is a limit on the number of items that can be purchased at a time. If you would like to purchase more than the limit, please create multiple orders or contact our sales team.

Select the address where you would like the items to be delivered.

In certain cases, an order may not be able to be delivered to a particular country due to availability or restrictions. If you are unable to select a country where you would like your order to be delivered, please contact us for assistance.

Finally, confirm the details of your order and click the Complete order button.
Once you have completed your order, it will be sent to our fulfillment teams for processing. Orders will typically take 1-2 business days to process.
Your credit card will be charged once your order ships.
If you need to modify your order, please cancel your existing order and create a new order.
Select Air SIMs are also available at Amazon . In some cases, purchasing from Amazon may be cheaper even with shipping included.
---
Cancelling an Order
Before your order is processed and shipped, you can cancel your order. To cancel an order, click the Cancel button.
https://console.soracom.io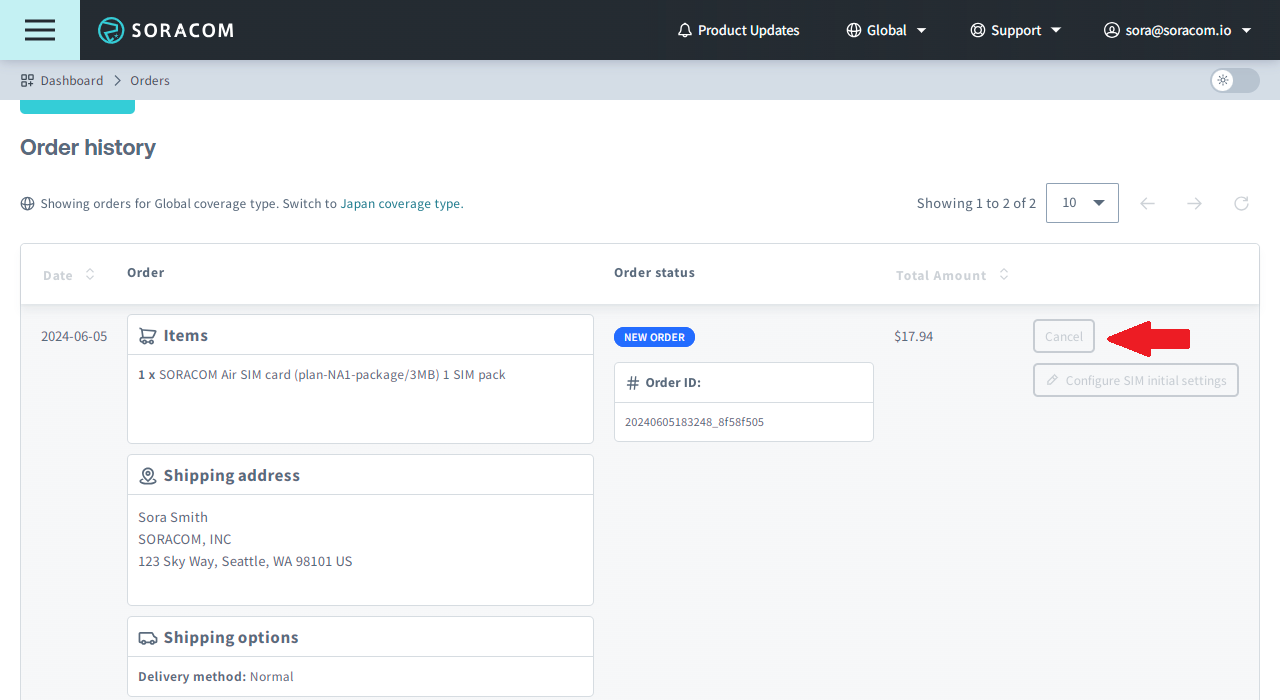 If you need to cancel an order which has already been published, please contact us.
---
Registering an Order
If your order contains SIM cards or Sigfox devices, they will be pre-registered to your account. Pre-registration simply associates each SIM card or Sigfox device to your account, however registration will not be finalized and your SIM cards or Sigfox devices will not appear in your account.
Once you have confirmed delivery of your order, you can finalize registration by clicking the Register button next to your order.
https://console.soracom.io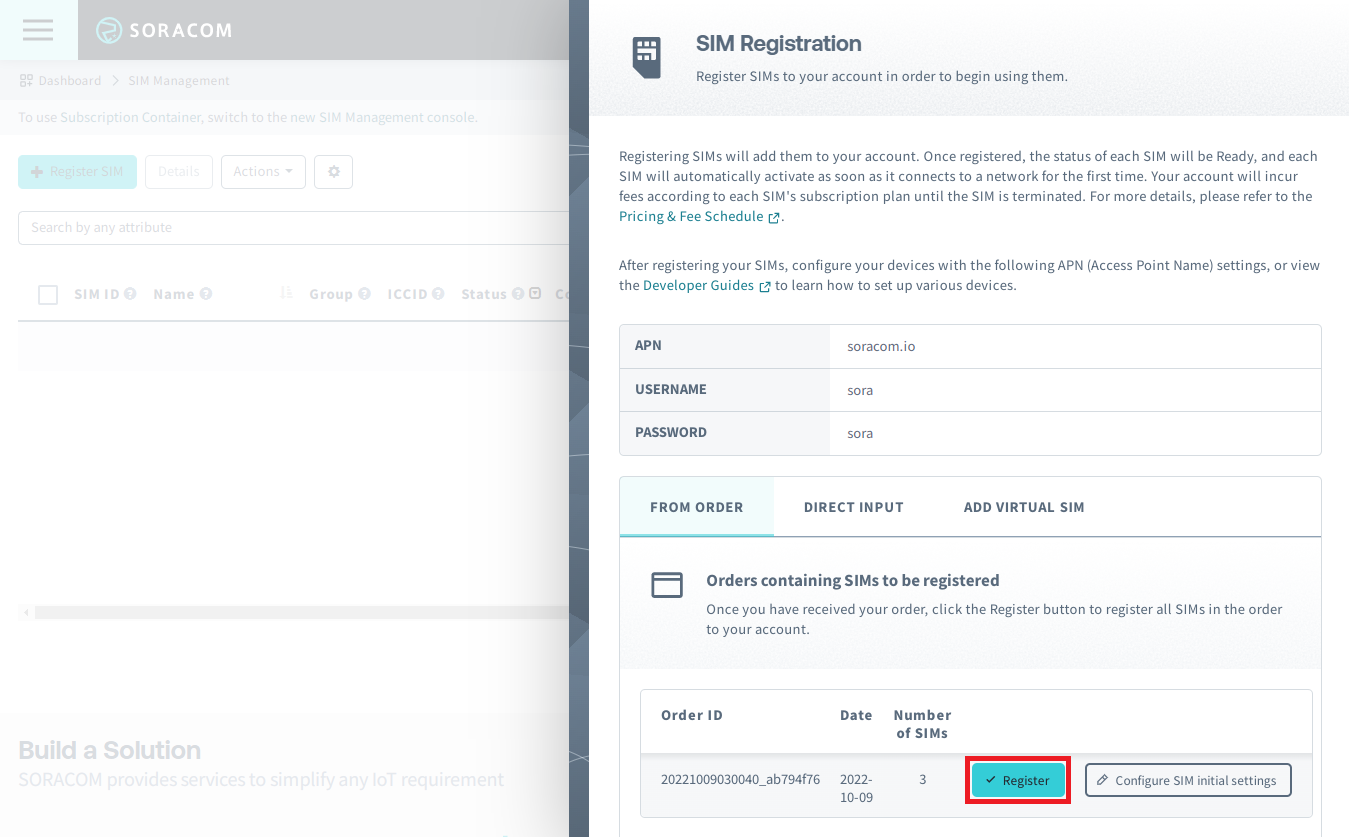 By finalizing your registration, all SIM cards and Sigfox devices in your order will automatically be registered to your account. This process allows you to register large quantities of SIM cards or devices without the need to enter the registration information separately for each item.
---
Downloading an Order Invoice
Order invoices containing the details of orders placed through your Soracom account are available for download from the User Console.
To download an order invoice:
Login to the User Console. Click your account menu, then select Billing.

https://console.soracom.io

Click the Invoices tab.

https://console.soracom.io

Click Download Invoice for the order you want to view.